Experienced Bicycle Accident Lawyer Representing Clients in Orange County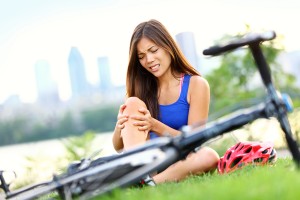 Based on statistics released by the National Highway Traffic Safety Administration, about 49,000 individuals suffered from injuries as a result of bicycle accidents in 2012, with more than 700 of those resulting in death. Although Orange County is full of scenic areas for recreational bicycling, there are also plenty of opportunities for people on bicycles to suffer injuries as a result of  a negligent or distracted car, truck, or bus driver. If you are a victim of a bicycle accident and are injured as a result of an inattentive driver in Orange County, speak to an experienced Orange County bicycle accident attorney – Chris Purcell at Purcell Law with offices in Irvine and Santa Ana – immediately. When you've been hurt as a result of negligence, you are legally entitled to compensation to help with your medical expenses and other injury-related losses.
WHAT SHOULD I DO IF I AM IN A BICYCLE ACCIDENT IN ORANGE COUNTY?
Every bicyclist should be prepared for the worst: a bicycle accident. If you are one day involved in a bicycle accident caused by someone's negligence, it is important to be aware of the next steps and what evidence to gather to support your personal injury claim. It is imperative that you seek medical attention for your injuries immediately. Even if you don't think you are seriously injured, you should still seek medical attention. Some trauma, such as a brain injury or other internal injuries, will not be obvious right away, or may seem less serious at the time of the accident, but actually be very severe. Keep any medical documents related to your injuries and follow the doctor's orders closely. It may be helpful to keep a daily diary that details how your injuries are healing and any symptoms you are experiencing.
WHY DO LAWYERS RECOMMEND DOCUMENTING THE SCENE OF THE BICYCLE ACCIDENT?
In the event that you need emergency medical help, you should never leave the scene of the bicycle accident. While you're still on the scene, be sure to call 9-1-1 and request that a police officer come to write a police report. A police report is the best way to identify each of the individuals who were involved. Law enforcement officers will also interview anyone who may have witnessed the accident and include their statements in an official report.
Even though law enforcement will be on the scene to take a report, you should make sure to gather evidence for yourself. Capture pictures of your injuries, the scene of the accident, and any remains of the accident that may be lying around. Traffic fixtures like signs or lights in the area are important, so make sure to photograph these too in an effort to prove what traffic laws the driver needed to be following during that moment.
WHEN SHOULD YOU CONTACT AN ATTORNEY AFTER A BICYCLE ACCIDENT?
After you have completed these steps, contact Chris Purcell to schedule a free consultation. Do not ever talk to the insurance company of the opposing party prior to speaking with an attorney. Insurance companies are notorious for tricking individuals into admiting fault or settling for much less than you will need to cover your medical expenses, so never engage with an insurance representative until you have talked to an injury lawyer.
NEGLIGENCE IS A FACTOR IN MOST BICYCLE ACCIDENTS ACCORDING TO ORANGE COUNTY ATTORNEYS
All motor vehicle drivers have the legal duty to look out for bicyclists and to take proper safety precautions. Tragically, many drivers fail to do this, and driver negligence is responsible for most bicycle accidents. Innocent people should not have their lives devastated simply because a driver acts irresponsibly.
COMMON CAUSES OF BICYCLE ACCIDENTS IN ORANGE COUNTY
Accidents most commonly happen when drivers need to make a left hand turn, but don't realize a bicycle is approaching the same area. Other accidents are caused when a driver opens their car door without first checking if a bicycle is approaching the vehicle. Although this doesn't sound like a severe injury, the impact of a bicycle hitting a car door can cause severe injuries.
Cars can pass bicyclists on the road, but they often cannot determine the distance between their car and the bicyclist and this results in colliding into the bicycle. This can throw the rider off of his or her bike and cause severe injuries that could be fatal. Motorists have to share the road with cyclists, but their impatience sometimes leads to tragedy.
WHAT DO THE POLICE DO WHEN THEY ARRIVE TO THE SCENE OF AN ACCIDENT?
When police arrive on the scene, will try to determine which party was at fault in the accident so they can write up a formal police report. Both bicyclists and motorists are expected to know and adhere to the rules regarding the road, and both parties can be held liable, depending on who was acting negligently at the time. However, in most bicycle accident cases, the driver is responsible for the injuries that the bicyclist has suffered.
For more than three decades, one of the top lawyers in Orange County, Chris Purcell, has fought passionately for injury victims in Orange County; if you're a bicyclist who's been injured by a negligent driver, Chris is ready to fight on your behalf, but you have to take the first step by calling to schedule a free consultation today.
OUR ORANGE COUNTY LAW FIRM GIVES BICYCLE ACCIDENT VICTIMS A VOICE
Purcell Law is a personal injury law firm that works exclusively for plaintiffs. Chris Purcell has experience representing victims in personal injury cases involving motorcycle accidents, bicycle accidents, auto accidents, pedestrian accidents, truck accidents, premises liability, slip and fall accidents, dog bites, construction accidents, spinal cord injuries, and burn injuries. Far too often, injury victims feel powerless against big insurance companies and their law firms. Orange County bicycle accident attorney Chris Purcell levels the playing field and makes certain that you have a voice – and a champion. He holds responsible persons accountable for the harm they've caused, and he helps injury victims receive compensation for their medical expenses, lost wages, and pain and suffering.
CONTACT ONE OF THE TOP LAW FIRMS IN ORANGE COUNTY AFTER AN ACCIDENT
If you're injured in a bicycle accident, your ability to work may be temporarily or permanently impaired. Your medical, financial, and personal challenges may seem beyond your control. Chris Purcell is dedicated to helping you fight for the justice you deserve so you can get your life back on track after a serious injury. He represents clients in Irvine, Santa Ana, Mission Viejo, Newport Beach, and throughout Orange County. All personal injury claims are handled on a contingency fee basis, so you pay nothing unless and until Purcell Law recovers compensation for you. To arrange a free case consultation with an attorney, please call 714-884-3006 or contact Chris by email today.