Trusted Bus Accident Lawyer Representing Riverside Victims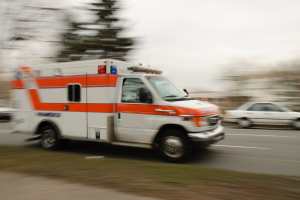 In cities like San Diego and Los Angeles, traffic collisions involving buses could kill and injure dozens and cause a number of severe personal injuries. If you are injured now or in the future in a bus accident anywhere in southern California, you are entitled under California personal injury law to complete reimbursement for all of your medical treatment and other injury-related expenses.
However, injury victims will need the legal advice and services that experienced Riverside bus accident attorney Chris Purcell can provide. Chris can assess the details of your accident and injury and explain your legal rights and options after a bus accident injury. For more than three decades, Chris Purcell has held responsible parties accountable for the damage they cause. He understands the concerns of injury victims, and he's ready to help.
ONE OF THE TOP LAWYERS IN RIVERSIDE WITH OVER 30 YEARS OF EXPERIENCE
Thousands ride buses every day in southern California, and for scores of students and commuters, it's their only method of transportation. Bus accident injuries can often be catastrophic and sometimes permanently disabling. Chris Purcell can investigate the accident, identify those responsible, and fight vigorously for the compensation a victim needs and deserves. He will explain how the law applies to your own personal injury claim, and he will protect your legal rights through every stage of the process.
Chris has more than twenty years of experience defending the rights of accident victims, and he knows how to win. He was part of the legal team that won California's largest-ever civil judgment – a $150 million verdict in Asam vs. Ortiz in 2013 – for an innocent family devastated by a tragic trucking accident. Although your own case may not conclude with that kind of judgment, Chris brings the same dedication and commitment to every client and to every personal injury case.
WHO CAN RIVERSIDE ATTORNEYS HOLD LIABLE IN A BUS ACCIDENT?
Identifying the liable parties in a bus accident is an important part of the legal process. Attorney Chris Purcell will review the details of your case to determine who was liable in causing the accident.
If the bus was a school bus, the school district may be held liable for the accident. School districts are responsible for making sure their drivers are trained, and safety standards are implemented to keep children safe. If they fail to do so, they could be held liable when an accident occurs. Sometimes, bus accidents occur when the bus collides with another driver on the road. If the other driver was acting negligent, he or she could be held liable for the bus accident.
BUS DRIVERS AND BUS COMPANIES CAN BE HELD LIABLE FOR INJURIES
Bus accidents can also occur when a driver is distracted, tired, driving recklessly, or under the influence of drugs or alcohol. Bus drivers, along with the companies that employ them, may be held liable in accidents caused by one of these factors.
If a faulty or defective part on the bus caused the accident, the manufacturer of that part could be held liable. But, if the accident was caused because of a part that was not properly maintained, this is not the manufacturer's fault, but rather the fault of the bus company or maintenance company.
LAW FIRMS CAN HELP YOU HOLD GOVERNMENT ENTITIES ACCOUNTABLE FOR BUS ACCIDENTS
Government entities may also be liable for accidents if the bus involved was owned by the state or local government. The government may also be a liable party if the accident was caused by dangerous road conditions that should have been repaired by a government agency.
To determine who was liable the accident and who you need to hold accountable for your injuries, speak to attorney Chris Purcell as soon as possible. Identifying the liable parties is the first step in receiving compensation for your injuries, but you have to make the call to schedule a free consultation to get started.
CONTACT AN EXPERIENCED ATTORNEY IF YOU HAVE BEEN INJURED IN A SCHOOL BUS ACCIDENT
School bus accidents are often the most heartbreaking since they involve innocent children. California has specific rules in place to reduce the number of injuries that occur in school bus accidents.
For example, school buses purchased or leased after July 1, 2005 are required to have lap and shoulder restraints similar to those found in motor vehicles. These reduce the injuries that children can sustain if the bus is involved in an accident. However, buses purchased or leased before that date do not need to be altered to add these restraints. This means children in older school buses are at a much higher risk than children who are traveling in newer models.
HOW DO SCHOOL BUS ACCIDENTS IN RIVERSIDE OCCUR?
Many injuries occur during drop-off and pick-up times when children are entering and exiting the bus. In fact, these types of school bus accidents are far more common than any school bus accident that occurs while actually driving. At this time, drivers should be aware of children getting on and off the bus to ensure they do not begin driving until everyone is on or off and bus and properly seated.
Under California law, school bus drivers are required to follow a list of safety precautions including flashing lights when stopping or picking up children, and stopping at all railroads to listen carefully for trains. Despite all of these regulations, school bus accidents still occur on a regular basis. If you or your child was injured in a school bus accident, Riverside contact personal injury lawyer Chris Purcell as soon as possible to discuss the legal options available to you.
CALL OUR RIVERSIDE COUNTY LAW FIRM NOW FOR A FREE CONSULTATION
Nothing is more important than your health and your future. If you – or a loved one – sustains an injury in a bus accident in southern California, let personal injury attorney Chris Purcell help. Chris advocates on behalf of clients in Riverside, across the Inland Empire region, and throughout southern California. He has experience representing people in cases involving dog bites, bus accidents, motorcycle accidents, pedestrian accidents, bicycle accidents, premises liability, slip and fall accidents, and spinal cord injuries. All injury claims are handled on a contingency basis, which means that clients pay no attorneys' fees unless and until Purcell Law recovers compensation on their behalf. To arrange for a free consultation with an experienced Riverside bus accident lawyer, please call our law offices at 714-332-5098 or contact Purcell Law by email today.