Skilled Pedestrian Accident Lawyer Representing Victims in Riverside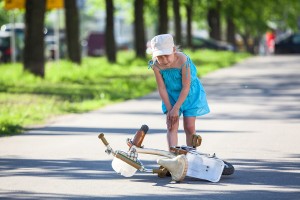 An average of twelve pedestrians lose their lives every day in traffic accidents in the United States. Scores more are injured daily. What's genuinely frightening is that at some point in time, everybody is a pedestrian. Under California's personal injury laws, if you suffer a personal injury as a pedestrian in southern California because a motorist – or even a skateboarder or a bicyclist – was negligent, you have the right to be fully compensated for all of your medical care, lost wages, and other injury-related costs and damages. Seek the legal help you need from Riverside pedestrian accident attorney Chris Purcell if you're injured by negligence as a pedestrian in southern California.
WHAT ARE THE COMMON CAUSES OF PEDESTRIAN ACCIDENTS IN RIVERSIDE?
Most pedestrian accidents can easily be prevented, but unfortunately, they still occur on a regular basis. Pedestrians can suffer much more serious injuries than motorists, since they do not have the luxury of airbags, seatbelts and other safety equipment. Some of the most common causes of pedestrian accidents include:
Motor vehicles failing to yield to the right of way to a pedestrian
Motor vehicles not stopping at a red light or stop sign
Motor vehicles failing to yield at a yield sign
Motor vehicles speeding through pedestrian areas
Defective vehicles
If you were involved in a pedestrian accident caused by someone else's negligence, you may be entitled to compensation. Speak to attorney Chris Purcell as soon as possible after the accident to discuss your legal options. The consultation is free, but it's up to you to take the first step and make the call.
WHAT ARE THE MOST COMMON PEDESTRIAN INJURIES?
Every pedestrian accident is unique, so of course, the injuries that the pedestrian involved in the accident suffers will differ greatly. Some of the most common injuries that may occur as a result of a pedestrian accident include:
Broken or fractured bones
Traumatic brain injuries
Spinal cord injuries
Damage to internal organs
Back and neck injuries
Partial or complete loss of a limb
CONTACT ONE OF THE TOP LAW FIRMS IN RIVERSIDE AFTER A PEDESTRIAN ACCIDENT
You may think a serious pedestrian accident can only occur when a vehicle is recklessly speeding through a crosswalk, but that is not the case. Even slow moving vehicles can cause great damage to an innocent pedestrian. If you or a loved one has been injured in a pedestrian accident because of someone's negligence, speak to attorney Chris Purcell as soon as possible. Chris Purcell will thoroughly review the details of your case and discuss all available legal options.
AN ATTORNEY EXPLAINS WHO IS AT RISK OF BEING INVOLVED IN A PEDESTRIAN ACCIDENT
The two groups that are most at-risk of pedestrian accidents are children and senior citizens. Children may not be fully aware of the rules of the road, or cars may fail to notice them crossing the street. Senior citizens, however, have slower reaction times and therefore cannot move out of the vehicle's way quickly enough.
But, just because these two groups are more likely to be involved in pedestrian accidents doesn't mean that they are the only ones who should learn pedestrian safety tips. Every adult and child should know how the basics when it comes to staying safe while walking on the roads.
TRUSTED RIVERSIDE LAWYERS DISCUSS SAFETY TIPS FOR PEDESTRIANS
Always be aware of your surroundings and put away any technological devices or other items that could act as a distraction. You need to be alert so you can react quickly if you notice any reckless drivers speeding in your direction. Make sure to look both ways before you cross a street and before you walk past a person's driveway. You never know when a car will be backing out of the driveway without looking behind them, so it's in your best interest to check before you walk.
At night, wear bright colors and always bring a flashlight with you to make yourself visible to other cars. Don't ever walk home after drinking alcohol. Even though this is safer than driving a car after drinking, it is still not recommended. Your judgment is impaired and you may not be able to concentrate on the road ahead of you. Always call a taxi or a friend to pick you up if you have been drinking and need to get home.
But, even if you follow all of these safety tips, accidents can still occur. After all, you can control your own behavior, but you can't control the behavior of motorists on the road. If you or a loved one has been injured in an accident, contact an attorney as soon as possible.
EXPERIENCED ATTORNEYS ADVISE VICTIMS TO SEEK MEDICAL ATTENTION FIRST
When you become Chris Purcell's client after being injured by negligence as a pedestrian, Chris will evaluate your case, outline your alternatives, and safeguard your legal rights. Of course, no lawyer can ever make a promise regarding the outcome of any specific civil or criminal case, but Chris Purcell's winning record on behalf of his clients is impressive, and Chris will fight aggressively to recover the compensation and damages you need and deserve. Don't let an insurance company trick you into accepting a settlement amount that's worth far less than the real value of your claim. Let Chris Purcell do all of the talking on your behalf.
As a pedestrian, you are entirely unprotected and vulnerable. When a pedestrian injury is catastrophic, or when a pedestrian injury permanently disables a victim, that victim will require the maximum possible compensation for long-term therapy, rehabilitation, and medical treatment. Seek representation from personal injury attorney Chris Purcell, who will advocate on your behalf. Chris has the record, the reputation, and the experience you'll need when you seek the advice and services of an attorney.
CALL OUR RIVERSIDE COUNTY LAW FIRM TO SCHEDULE A FREE CONSULTATION TODAY
To arrange a free initial discussion with Riverside pedestrian accident lawyer Chris Purcell, call 714-332-5098 or contact Chris by email today. Chris has over 30 years of experience and is dedicated to helping injury victims and their families resolve their legal issues in ways that help them move ahead positively and constructively. He has experience representing clients in cases involving bicycle accidents, slip and fall accidents, pedestrian accidents, motorcycle accidents, truck accidents, dog bites, motor vehicle accidents, and premises liability. Chris represents injury victims across southern California, and you'll pay no attorney fees unless and until Purcell Law wins a settlement or verdict on your behalf.