Committed Bicycle Accident Lawyer Helping Victims in Riverside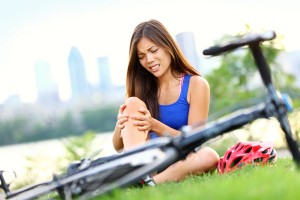 When Riverside bicycle accident attorney Chris Purcell represents a bicycle accident injury victim, he consults with medical experts regarding the details of the injury. To determine liability, he works with accident reconstruction specialists. He fights diligently and aggressively on behalf of every client for the maximum possible compensation. Chris Purcell interrogates every witness to your accident and investigates every detail. After a bicycle accident – or any traffic collision – both the evidence in the case and the recollections of the witnesses can fade and deteriorate rapidly. Chris Purcell can act at once to secure the evidence and question the witnesses to your accident.
WHAT TO DO AFTER A BICYCLE ACCIDENT
Whether you are a new bicyclist or a seasoned pro, you may one day be involved in a bicycle accident, so it's important that you know what to do. First, you should seek medical treatment for any injuries you sustained as a result of the accident. Some injuries will not be immediately visible, or may seem less serious than they really are. That's why you should get medical treatment regardless of the severity of your injuries. Never leave the scene of the bicycle accident unless you need emergency medical attention. Either call an ambulance for emergency treatment or visit a doctor as soon as possible. Make sure you save any documents related to your treatment so you have proof of your injuries. If the symptoms persist, keep a diary of how you are feeling on a daily basis to prove how serious your injuries are.
WHY DO LAWYERS RECOMMEND GATHERING EVIDENCE AFTER A BICYCLE ACCIDENT IN RIVERSIDE?
It is also important to call the police after a bicycle accident. A police report is the best way to officially identify each of the parties involved in the crash. Police officers will also question witnesses at the scene and write down notes so they can create a formal report. Make sure you speak with the police officer to share your side of the story. It is important that this is documented within the police report. But, even though police officers are writing a report, you should still document evidence on your own. Take photographs of the scene, including any property damage to your bicycle or the motorist's car, injuries and debris that may have scattered after the accident. If there are any traffic signs in the area, document these as well to show what rules the driver should have been obeying at the time.Ask witnesses for a short description of what they saw, and make sure you get their contact information so you can get in touch with them later on, too.
WHY SHOULD YOU CONTACT A RIVERSIDE ATTORNEY AFTER A BICYCLE ACCIDENT?
Finally, contact an attorney as soon as possible. When you are involved in a bicycle accident, you will have to deal with the other party's insurance company, but you should never speak a word to them until you have consulted with an attorney. Insurance companies will try to get you to admit fault or settle for much less than what you deserve, so it's never wise to deal with them without the help of an experienced attorney.
BICYCLE ACCIDENTS ARE OFTEN CAUSED BY DRIVER NEGLIGENCE ACCORDING TO LOCAL ATTORNEYS
California law entitles bicyclists injured by the negligence of others to complete compensation for their medical care and all expenses related to the injury. Most bicycle accidents are caused by driver negligence including but not limited to:
speeding
distracted driving
swerving
running a red light or stop sign
driving under the influence
SKILLED RIVERSIDE LAW FIRMS CAN HOLD THE NEGLIGENT DRIVER RESPONSIBLE
Bicycle accidents frequently occur when motorists make a left hand turn and fail to yield to a bicyclist. Motorists must yield to any vehicles, motorcycles or bicycles, and failing to do so could result in injuries. Accidents also can occur when a motorist opens his or her car door without looking to see if a bicyclist is coming. Although this does not seem like a serious accident, the impact of the bicyclist hitting the door can lead to severe injuries.
Bicyclists are often hit by cars who are attempting to pass them on the road, but misjudge the distance and end up colliding with the bicycle instead. Motorists are legally required to share the road with bicyclists, so if they become impatient, pass a bicyclist and cause an injury, they may be held liable.
WHO IS AT FAULT IN A BICYCLE ACCIDENT?
Insurance companies and police officers who respond to the scene will determine who is at fault by figuring out which party acted negligently. Bicyclists are expected to follow the rules of the road, so if it is determined that the bicyclist involved in the accident didn't follow the rules, he or she could be at fault. But, in the majority of bicycle accident cases, the motorist is at fault.
If you are injured while riding a bicycle in southern California, speak with personal injury attorney Chris Purcell as quickly as you can. For over two decades in the Inland Empire region, Chris has been dedicated to fighting for the compensation and justice that bicyclists injured by negligence deserve. If your life has been turned upside down because of a driver's negligence, Chris Purcell is ready to provide you with legal advice and work for you.
OUR LAW FIRM HAS OVER 30 YEARS OF EXPERIENCE FIGHTING ON BEHALF OF BICYCLE ACCIDENT VICTIMS
When you've been injured by a negligent driver, you'll want to be represented by a personal injury firm devoted exclusively to justice for injury victims. Chris Purcell has experience handling cases involving catastrophic accidents, motorcycle accidents, bicycle accidents, pedestrian accidents, truck accidents, premises liability, dog bites, slip and fall accidents, and motor vehicle accidents. The justice system and the insurance companies can be intimidating, but Chris Purcell will deal with them on your behalf and make certain that your voice is heard, your story is told, and that the driver who injured you is held responsible.
To arrange a first meeting with a Riverside bicycle accident lawyer, call 714-884-3006 or contact Chris Purcell by email today. If you file a personal injury claim, Chris will handle your claim on a contingency basis, so you'll be responsible for no fees until or unless your settlement or verdict is awarded. California has established a statute of limitations – a time limit for filing personal injury claims – so you must not procrastinate. From anywhere in southern California, if you are injured by a negligent driver while bicycling, please call Purcell Law at 714-884-3006 without delay.