Dedicated Brain Injury Lawyer Representing Victims in Orange County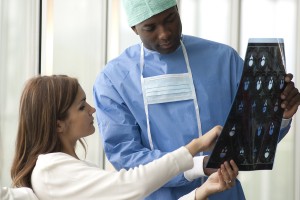 Brain injuries are perhaps the most serious type of injury that can occur as a result of an accident. Many brain injuries will affect the victim's quality of life for years after an accident. Victims can tragically suffer from emotional, cognitive and physical changes. No amount of compensation can reverse the damage of a brain injury, but it can help you financially so you can pay for your medical expenses and live comfortably.
For more than twenty years, Orange County brain injury attorney, Chris Purcell has advocated for the rights of traumatic brain injury (TBI) victims and helped them obtain the compensation they need and deserve. If you sustain a traumatic brain injury in a traffic accident, a fall, or some other kind of accident in Orange County, and another person's negligence was the cause of your injury, you may be able to receive compensation for your medical treatment and related injuries by filing a personal injury claim. If you are a victim of TBI, contact Chris Purcell at Purcell Law in Irvine or Santa Ana immediately. Chris represents clients throughout Orange County including Santa Ana, Irvine, Huntington Beach, Laguna Beach, and San Juan Capistrano.
EXPERIENCED LAW FIRMS CAN HELP VICTIMS OF OPEN AND CLOSED BRAIN INJURIES
Traumatic brain injuries are usually sudden, often debilitating, and always life-changing. There are two types of traumatic brain injuries: open and closed injuries. Open injuries are those in which a foreign object has penetrated the skull and entered the brain cavity, while closed injuries involve any sort of violent blow to the head. Despite their differences, both open and closed injuries are serious.
After an accident, brain injuries may not be immediately apparent. You may think you're fine, only to go home and start experiencing symptoms hours later. Some of the short-term symptoms you may experience immediately or hours later include disorientation, blackouts, memory loss, dizziness, loss of balance or coordination, numbness, weakness, nausea, vomiting, headaches that worsen over time, clear fluid draining from the ears, dilated pupils and seizures.
WHY DO LAWYERS RECOMMEND SEEKING MEDICAL ATTENTION IMMEDIATELY AFTER AN ACCIDENT?
Victims may also notice a change in their emotions and behaviors after a brain injury. Some emotional and cognitive changes you may experience include mood swings, depression, anxiety, slurred speech, violent behavior and difficulty concentrating. When a brain injury is not obvious right away, it may be overlooked until symptoms emerge at a later time, when the condition may already be severe. That's why it's so important to seek medical attention immediately after an accident, even if you don't think you are injured or the injuries aren't bad. Doctors will need to run different tests to determine whether you have suffered brain damage and if so, what the extent of the damage is, and how it will impact the rest of your life.
WHAT ARE THE LONG-TERM EFFECTS OF A BRAIN INJURY?
Remember, these are just the short-term effects of a traumatic brain injury. Unfortunately, the long-term effects may be much more severe and life-changing. Some of these long-term effects include:
Seizures
Changes in mood or emotional state
Violent behavior
Inability to eat, drink or swallow
Inability to speak, write, or hear
Partial or complete memory loss
Inability to walk at all or without the help of scooters, walkers, or wheelchairs
If you or a loved one has suffered a brain injury as a result of someone else's negligence, speak with experienced attorney Chris Purcell as soon as possible.
AN ORANGE COUNTY ATTORNEY EXPLAINS THE CAUSES OF TRAUMATIC BRAIN INJURIES
Traumatic brain injuries can occur when the head is violently jerked back and forth. Some of the most common causes of traumatic brain injuries include:
Motorcycle accidents
Truck accidents
Slip and fall accidents
But, even if your brain injury was not sustained during one of these common accidents, you may still be entitled to compensation. When a brain injury happens in any accident where another person was negligent, let an experienced attorney fight for the compensation you are very much going to need. With more than three decades of experience representing Orange County accident victims, Chris Purcell understands the concerns and anxieties of TBI patients. If a negotiated settlement is not possible, Chris will take your case to trial. In 2013, he was part of the legal team that won the largest judgment in California legal history, $150 million for a family devastated by a tragic trucking accident.
OUR ATTORNEYS WILL FIGHT FOR COMPENSATION FOR BRAIN INJURY VICTIMS
If you were injured as a result of someone's negligence, you may be entitled to various forms of compensation. The exact amount and types of compensation you receive will depend on your case, but you could be entitled to compensation for:
Current and future medical expenses
Medical equipment, rehabilitation, at-home care
Loss of wages
Loss of earning capacity
Loss of consortium
Pain and suffering
WHY ARE BRAIN INJURY VICTIMS ENTITLED TO COMPENSATION?
It is imperative that you seek compensation if your injury was truly caused by another's negligence. The medical expenses for a brain injury will pile up quickly, and the last thing you need during this time is financial stress. But, that's not all. Your quality of life may be reduced after a brain injury, and if this is the case, you should receive damages for the pain and suffering, loss of wages and loss of earning capacity.
To determine whether you are entitled to compensation, seek representation from Chris Purcell, one of the top personal injury lawyers in the area. Call today for a free consultation to discuss your case and your legal options.
TAKE THE FIRST STEP TODAY BY CONTACTING OUR ORANGE COUNTY LAW FIRM
A traumatic brain injury can completely turn someone's life around. Traumatic brain injury victims suffer mental, physical, and emotional pain. Their medical, financial, and personal challenges can seem overwhelming. Chris Purcell is committed to helping you get your life back after a traumatic brain injury and helping you move forward in the most positive way. He has experience representing clients in personal injury cases involving head injuries, dog bites, premises liability, spinal cord injuries, product liability, pedestrian accidents, car accidents, bus accidents and bicycle accidents. All personal injury claims are handled on a contingency fee basis, so you pay nothing unless and until Purcell Law recovers compensation for you. To schedule a free consultation with an Orange County personal injury attorney, call 714-884-3006 or contact Chris by email today.