Trusted Swimming Pool Accident Attorney Serving Riverside Clients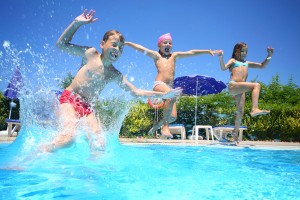 It's the kind of story we hate to see or hear, and it happens far too often in southern California – a child drowns in a residential swimming pool. We expect the people who own swimming pools to keep those pools safe, but if swimming pools aren't also locked and secured when they're not in use, they're not safe. If safety precautions are not implemented and someone drowns or becomes injured, a swimming pool's owner may be held legally accountable.
When someone who was injured in a swimming pool accident can prove that the pool owner's negligence is the direct cause of the injury, California law provides for complete reimbursement for all medical treatment and other damages stemming from the accident. Speak at once to an experienced Riverside swimming pool accident lawyer – Chris Purcell at Purcell Law – if you are the victim of a swimming pool injury or the survivor of a drowning victim.
MANY SWIMMING POOL ACCIDENTS IN RIVERSIDE COUNTY ARE AVOIDABLE
Too many young children – especially those age four and younger – drown in private, residential pools. A swimming pool safety fence is an absolute priority. Pool owners must also routinely use adequate locks. Having a first aid kit on hand and knowing swimming pool safety rules is also genuinely essential for private swimming pool owners. In personal injury claims arising from swimming pool injuries, and in wrongful death cases linked to swimming pool drownings, too many private pool owners, schools, and city recreation departments are found negligent. If a defective pool or defective safety equipment is the reason for an injury or a drowning, a product liability claim against the pool's manufacturer or builder may be appropriate.
EXPERIENCED LAWYERS EXPLAIN THE PREMISES LIABILITY LAW IN CALIFORNIA
California has a premises liability law, which states property owners may be held liable if an injury occurs on their property, including in their swimming pools. Whether the property owner is found liable hinges on whether the owner knew about a hazardous condition on the property.
Under this premises liability law, swimming pool owners have a legal obligation to ensure their pools are safe at all times. If an accident occurs because the swimming pool owner fails to keep the property safe, he or she may be held liable. Premises liability can apply to:
Owners of residential swimming pools
Property owners with private or commercial pools used by guests or tenants (landlords, hotels, gyms, etc.)
Owners of government property, such as a municipal swimming pool
Those in control of the property at the time of the accident, such as a tenant who is renting a house with a swimming pool
HOW CAN TOP LAW FIRMS HELP YOU RECOVER COMPENSATION AFTER A SWIMMING POOL ACCIDENT?
In order to receive compensation for your injury, you will need to prove the property owner did not properly maintain the pool, and therefore caused a safety hazard that led to your injury. Some examples of this could include:
Lack of fencing: If it can be shown that a responsible owner would have had fencing or locked gates around the pool to protect guests.
Warning signs: If a swimming pool owner does not have a lifeguard on duty, signs must be posted warning guests to swim at their own risk. Signs that state the depth of the pool must also be visible to prevent dive injuries. If any of these signs were not present at the time of the accident, the pool owner could be liable.
Lack of supervision: If a swimming pool owner claimed a lifeguard would be on duty, but then no lifeguard was provided to guests, the owner could be held liable if a guest is injured or drowns. Or, if a lifeguard is present but acts negligently, the owner could be held liable.
Failure to maintain the property: If an injury occurs because the pool was not properly maintained, the swimming pool owner may be at fault.
There is never a guarantee that you will receive compensation after being injured on someone else's property. But, to increase your chances of receiving compensation, it is always recommended that you work with an attorney. Contact Chris Purcell immediately after a swimming pool accident to schedule your free legal consultation.
ATTORNEYS DISCUSS WHAT TO DO AFTER A SWIMMING POOL ACCIDENT IN RIVERSIDE
Immediately following a swimming pool accident, you should seek medical attention for you or your injured loved ones. Make sure you keep all documentation related to your injury, which will help your personal injury claim later on.
If you can, photograph evidence around the swimming pool. Make sure you capture the perimeter of the pool and any signs that are present. If the pool has a gate or fence, snap a few pictures of this as well. Take pictures of your injuries, too.
Identify any witnesses that may have seen your accident. Ask them for a brief statement describing what they saw and their contact information so you can get in touch with them later on if needed.
DON'T SPEAK TO AN INSURANCE COMPANY ABOUT A SWIMMING POOL ACCIDENT BEFORE TALKING TO A LAWYER
Property owners may contact their insurance company immediately following a swimming pool accident. If the representative from the insurance company attempts to talk to you about what happened, your injuries or a settlement, do not speak with him or her until you have consulted with an attorney. The insurance company may try to overwhelm you with complicated paperwork and intense lines of questioning, but don't let them. If you have suffered an injury in a swimming pool accident, seek legal representation right away. Contact personal injury lawyer Chris Purcell for help with every part of the legal process, including dealing with the other party's insurance party.
SCHEDULE A FREE CONSULTATION WITH OUR TRUSTED LAW FIRM TODAY
Riverside swimming pool accident lawyer Chris Purcell can explain the details about your rights and your legal options – including a potential personal injury or wrongful death lawsuit – after a swimming pool accident in southern California. His impressive record on behalf of personal injury victims speaks for itself, and Chris has built a reputation for excellence with colleagues and judges throughout the Inland Empire region. He has experience representing people in cases involving swimming pool accidents, motorcycle accidents, construction accidents, catastrophic accidents, bus accidents, bicycle accidents, truck accidents, pedestrian accidents, dog bites, spinal cord injuries, defective products, and slip and fall accidents. After a swimming pool injury, let Chris Purcell work to help you win the compensation you need and the justice you deserve. Contact Chris by email or call our offices at 714-332-5098 after any injury caused by negligence.