Trusted Pedestrian Accident Lawyer Representing Clients in Orange County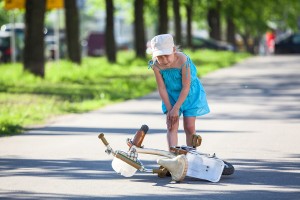 Everyone's a potential accident victim. You can be strolling down the sidewalk, minding your business, when a car, bus, truck, or motorcycle spins out of control. As a pedestrian, you can be injured seriously even by a skateboarder or a bicyclist. Orange County pedestrian accident attorney Chris Purcell is the attorney to call if you're injured as a pedestrian in Irvine, Anaheim, or anywhere in Orange County. With more than three decades of experience representing the injured, Chris will partner with investigators and accident reconstruction experts to analyze a pedestrian accident scene, compile evidence, and interrogate witnesses on your behalf. He will fight hard to obtain the compensation you need for your medical treatment, lost wages, and related expenses.
WHAT ARE THE COMMON CAUSES OF PEDESTRIAN ACCIDENTS?
Many laws outline how motor vehicles should share the roads with pedestrians, but they often fail to comply with these laws. As a result, pedestrians suffer serious injuries that could have easily been prevented. Some of the most common causes of pedestrian accidents include:
Motor vehicles failing to yield to the right of way to a pedestrian
Motor vehicles not stopping at a red light or stop sign
Motor vehicles failing to yield at a yield sign
Motor vehicles speeding through pedestrian areas
Defective vehicles
Regardless of the cause of the accident, if it involved someone acting negligently, you may be entitled to compensation. Speak to injury attorney Chris Purcell after the accident for a free legal consultation.
ORANGE COUNTY ATTORNEYS CAN REPRESENT CLIENTS SUFFERING FROM COMMON PEDESTRIAN ACCIDENT INJURIES
Pedestrians do not have the same protection that motorists do. Motorists drive in the safety of their cars with seatbelts and airbags, while pedestrians have nothing to protect them from bodily harm. Some of the most common injuries you may sustain in a pedestrian accident include:
Broken or fractured bones
Traumatic brain injuries
Spinal cord injuries
Damage to internal organs
Back and neck injuries
Partial or complete loss of a limb
WHO IS MOST LIKELY TO BE INVOLVED IN A PEDESTRIAN ACCIDENT?
Sadly, children and senior citizens are the two demographics that are most likely to be involved in a pedestrian accident. Drivers often fail to spot small children crossing the streets, and senior citizens tend to have a slower reaction time than younger adults.
A car does not have to be speeding through an intersection to cause injuries. Even a slow moving car can lead to serious injuries, especially to children and senior citizens. If you or a loved one has suffered from injuries in a pedestrian accident, speak to Chris Purcell as soon as possible. Chris Purcell will thoroughly review the details of your case and discuss all available legal options.
LAWYERS CAN HELP PEDESTRIAN ACCIDENT VICTIMS RECOVER COMPENSATION
If the pedestrian accident was caused by a negligent driver, you may be entitled to compensation for your injuries. Compensation is determined on a case-by-case basis, but some of the different types you may receive include:
Current and future medical expenses the victim has incurred as a result of the injury
Loss of wages if the victim has been unable to work because of the injury
Loss of earning capacity if the victim will not be able to return to work because of the injury
Pain and suffering the victim has experienced due to the injury
Loss of consortium if the victim's relationship with his or her spouse has suffered as a result of the injury
To determine whether you are entitled to compensation, you must speak with an experienced lawyer. Chris Purcell will protect your rights and fight to receive the maximum amount of compensation available.
EXPERIENCED LAW FIRMS ADVISE CLIENTS TO FOLLOW THESE SAFETY TIPS FOR PEDESTRIANS
You can't control the behavior of a motorist, but you can control how you walk on the streets as a pedestrian. When you are walking outdoors, make sure you are focused on your surroundings. Don't become distracted by your phone, other people or music. Always look both ways before you cross a street. If you are walking past a driveway, stop and make sure there are no cars quickly backing out of the driveway without looking.
At night, wear bright colors and carry a flashlight so motorists will be able to see you. You should never walk home if you have been drinking, even if this seems like the responsible thing to do. Always call a taxi or a friend to come pick you up so you are not walking on the streets under the influence of alcohol.
DON'T AGREE TO A SETTLEMENT WITHOUT SPEAKING TO AN ATTORNEY IN ORANGE COUNTY
If you're injured as a pedestrian because of someone's negligence, now or in the future, do not agree to any settlement with an insurance company before consulting with Chris Purcell. An insurance company may offer you a low figure or nothing at all; they'll postpone the payment and hope you'll go away, or they may try blaming you for your own injury. Don't talk to them if you want to recover the damages you deserve. Instead, let Chris Purcell do the negotiating on your behalf. For over twenty years, Chris has fought for accident victims. He's won considerable settlements and judgments for many of his clients.
Pedestrians have no air bags, no helmets, and no seat belts, so the injuries in pedestrian accidents can be tragic, including debilitating spinal cord injuries, traumatic brain injuries, internal injuries, and limb injuries requiring amputation. If you sustain any of these injuries in a pedestrian accident in Orange County, you're going to need compensation for your medical bills for long-term medical treatment and rehabilitation. Let Chris Purcell be your advocate. Chris has the skill, experience, and tenacity you're going to need in an Orange County personal injury lawyer.
ARRANGE A FREE CONSULTATION WITH OUR ORANGE COUNTY LAW FIRM NOW
Chris Purcell is committed to helping you get your life back after a serious pedestrian injury and helping you move forward in the most positive and constructive way possible. Chris represents clients throughout Orange County including Irvine, Santa Ana, Cypress, and Rancho Santa Margarita. He has experience representing clients in cases involving dog bites, motorcycle accidents, pedestrian accidents, truck accidents, premises liability, bicycle accidents, and slip and fall accidents. Personal injury cases are handled on a contingency fee basis, so you pay nothing unless and until Purcell Law recovers compensation for you. To arrange a free consultation with an Orange County pedestrian accident lawyer, call 714-884-3006 or contact Chris by email today.