Trusted Brain Injury Lawyer Helping Victims in Riverside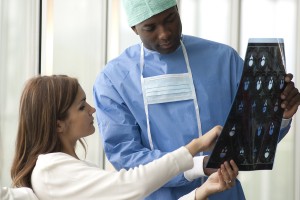 A brain injury can completely change a person's life. Many injuries will affect the victim for years or even decades after the accident. Victims may experience changes in their physical and cognitive abilities and suffer severe emotional trauma, too.
For more than three decades, Riverside brain injury attorney Chris Purcell has fought on behalf of brain injury victim for the compensation and justice they need, are entitled to, and deserve. If you've sustained a brain injury in southern California because of another person's negligence, Chris can probably help you recover your medical expenses and other injury-related damages with a personal injury claim.
Attorney Chris Purcell works entirely on a contingency fee basis – you pay no attorney's fees until you are compensated – and your first consultation with Chris will cost you nothing. If you are – or if you become – a brain injury victim, talk to Chris Purcell at once. He will evaluate your claim, give you candid legal advice, and discuss your legal rights and options as a brain injury victim.
WHAT ARE TRAUMATIC BRAIN INJURIES?
Traumatic brain injuries are the most severe kind of brain injury that can occur after an accident. There are two types of traumatic brain injuries that may occur after an accident: open and closed. An open injury occurs when a foreign object collides with the head, penetrates through the skull and enters the brain. A closed injury, however, occurs when a victim suffers from some sort of violent blow to the head. Unfortunately, both types of traumatic brain injuries can lead to long-lasting and severe consequences.
WHAT ARE THE SYMPTOMS OF A TRAUMATIC BRAIN INJURY?
If you think you have a brain injury after an accident, it's essential that you seek medical attention immediately. Some of the short-term symptoms of a traumatic brain injury that you may notice after an accident include:
Dizziness
Loss of balance or coordination
Frequent convulsions or seizures
Numbness or weakness
Clear fluids draining out of the ears
Nausea or vomiting
Difficulty sleeping or sleeping more than usual
A headache that gets worse as time goes by
Drowsiness or fatigue
Dilated pupils
TRUSTED LAW FIRMS ADVISE YOU TO SEEK HELP AS SOON AS YOU SPOT THESE SYMPTOMS
Keep in mind these are just the physical symptoms you may notice after a traumatic brain injury. There are also sensory-related symptoms that may appear shortly after an accident. These symptoms include:
Depression
Anxiety
Slurred speech
Agitated mood
Trouble concentrating
Sudden mood swings
If you experience any of these symptoms after an accident, it's imperative that you seek medical attention as soon as possible. Doctors will need to run tests to determine the severity of your condition and how it will impact your future. This is especially important if you plan on filing a personal injury claim against the person who caused your injury.
ATTORNEYS CAN HELP VICTIMS WHO ARE SUFFERING FROM THE LONG-TERM EFFECTS OF A TRAUMATIC BRAIN INJURY
Even if you seek medical treatment right away, you may still have to live with the long-term effects of a traumatic brain injury. These effects can make it difficult for you to live the same quality of life you did before the accident, which is why brain injury victims are so often entitled to compensation. Some of the long-term effects of brain injuries can include:
Losing the ability to walk at all or without assistance (wheelchairs, scooters, walkers, etc.)
Memory loss
Inability to pay attention for long periods of time
Trouble speaking, writing or hearing
Depression, anxiety, or abrupt mood swings
Changes in your behavior
Inability to eat, swallow or go to the bathroom on your own
Frequent seizures
WHY DO YOU NEED EXPERIENCED LAWYERS TO HELP YOU FIGHT FOR COMPENSATION?
This is not an all-inclusive list of long-term effects of traumatic brain injuries. The consequences of brain injuries are serious, and if your injury was caused because of someone else's negligence, you may be entitled to compensation. Many traumatic brain injury victims require special medical equipment, extensive rehabilitation and in-home care, meaning medical bills will be massive. For help fighting for the compensation you deserve, contact attorney Chris Purcell.
WHAT ARE THE CAUSES OF TRAUMATIC BRAIN INJURIES?
Brain injuries can have long-lasting, serious effects on a victim. They are typically caused when the head jerks back and forth unexpectedly, a motion which can lead to severe brain damage. The most common causes of brain injuries include:
Car accidents
Motorcycle accidents
Slip and fall accidents
Workplace accidents
If you or a loved one has suffered a brain injury because of someone else's negligence, speak to an attorney at once. Chris Purcell will work tirelessly to defend your rights and fight for the compensation that you deserve.
ATTORNEY CHRIS PURCELL HAS OVER 30 YEARS OF EXPERIENCE FIGHTING FOR VICTIMS' RIGHTS
Even a mild brain injury like a concussion may be catastrophic over time. Researchers are learning more about the challenges of post-concussion syndrome, which can include memory loss, seizures, and blackouts. A mild blow to the head may even be completely forgotten about until the condition becomes severe. When a brain injury is sustained because someone else was negligent, attorney Chris Purcell can work with medical authorities and other experts to prove the cause and extent of your injury.
Chris has handled scores of personal injury cases for three decades. In 2013, he was part of the team of attorneys who won the largest civil judgment in California legal history – for a family devastated by a stranger's negligence. Personal injury lawyer Chris Purcell fights diligently and aggressively on behalf of his clients and their families in southern California, and he knows exactly what it takes to prevail.
TAKE THE FIRST STEP NOW BY CONTACTING OUR RIVERSIDE COUNTY LAW FIRM
Brain injury victims can suffer in a variety of ways – from vision, hearing, and balance problems, sleep disorders, and emotional pain. For many, the medical and financial obstacles to recovery can be daunting. Recovery and rehabilitation can take weeks for some – other brain injury victims never fully recover and need to obtain the maximum available compensation for a lifetime of care. Personal injury attorney Chris Purcell can handle all aspects of a personal injury claim, relieving you and your family of that particular anxiety. He represents clients in Riverside, throughout the Inland Empire region, and across southern California. He has experience representing injured people in cases involving brain injuries, spinal cord injuries, motor vehicle accidents, bicycle accidents, pedestrian accidents, dog bites, product liability, and premises liability. To set up an initial free consultation with Riverside brain injury lawyer Chris Purcell, please call our offices at 714-332-5098 or contact Chris by email today.